Origin of Hakuakai, Its Founder & Chief Instructor
Hakua means " white wall". Your can color the white wall into various color by making efforts individually. Push and brace yourself in Karate Do to change your belt step by step from white to black. But to whatever color your belt changes, its original color is white. Keep in mind that it implies the warning that your should not forget your original intention. Keep in mind that children do not grow up without parents. That is why Iwabuchi Shihan named the association "Hukua-Kai".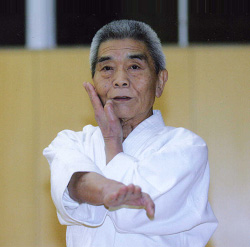 The late Grand Master Katsushi Iwabuchi
The Founder of Japan Karate Do Hakau-Kai
(A Shotokan Organization)
1935: Born in Iwate refecture. Met karate Do in his Childhood and performed practices.
1952 : came up to Tokyo to get employed.
1954: Became a pupil of Master Shinji Michihara, the president of Nihon Karate Do Kyoiku Kenkyu Kai at Setagaya Dojo at the age of twenty.
1963: Opened Dojo at Hikawa Jinja in Tokinwadai.
1964: Opened Dojo at Kami-Itabashi Dai-4 elementary school.Opened Dojo at Asaka SDF outstation. Opened Dojo at Nerima US military outstation.
1965: Opened Dojo at kawaguchi City Shiwasuda middle school.
1966: opened Dojo at Shimo-Akatsuka elementary school.
1967: Broke away from Master Michihara and set up Hakua-Kai. Came into action as Japan Karate Do Hakua-Kai around Kanto region. 8th Dan Black Belt authorized by Japan Karate Do Hakua-Kai .
1970: set up an affiliated association in the USA.
1996: Set up an affiliated association in the Sri Lanka.
2006: Passed away on July 27 at the age of 72.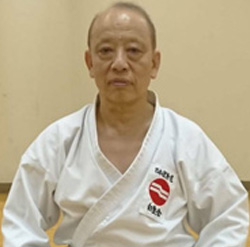 Soke Fukuda Hirotaka
The President & Chief Instructor
(Japan Karate Do Hakau-Kai World Headquarters Japan)
Born in Kawaguchi City, Saitama Prefecture on July 5, 1949
53 years of Karate career
The Chief Instructor of Japan Karate Do Hakua Kai
Vice President of Saitama Prefecture Karate Do Federation
President of Kawaguchi Karate Do Federation
Executive Board member of Kawaguchi Amateur Sports Association
8th Dan Black Belt authorized by Japan Karate Do Hakua Kai
6th Dan lack Belt authorized by Japan Karate Do Federation
Referee of kumite authorized nationally
Referee of Kata authorized in Kanto region
Qualifier of 3rd grade Examiner of Japan Karate do Federation
Sports Coach of karate Do
Affirmation of Hakua-kai
Esteem a spirit of reconciliation and cooperation.
Make a start to glory with great possibilities.
Oh, Karate friends of ours!
Draw out your natural endowments.
And then build a brilliant reality.
Open up the future also.
Dojo Gokun
Five Lesson at Dojo of Japan Karate Do Hakua Kai
Karate do itself is a philosophy of life.
Burn with the desire for truth and peach against debauchery.
Your should value the proprieties and cultivate benevolence and modesty.
You should make efforts to bring your mind, energy and force together.
Your should cultivate an unbreakable spirit.
Love balmy breeze and bright moon, improve you character and learn self-control.